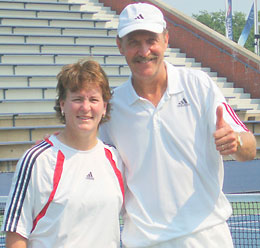 Anne and mixed doubles partner, Stan
Smith celebrate after winning the
2008 US Open Champions Invitational.
Anne and Stan completed a "three peat"
by winning the event for the third
year in a row
Champions Conclude Action-Packed Tournament
Saturday, September 8, 2007
By Lisa Zimmerman

A scorching final day of the Champions Invitational showcased three matches of former Grand Slam greats.
First up were Henri Leconte and Jimmy Arias. Arias, in his usual cheery mood, kept up an ongoing chatter throughout the match – and not only between points, but during points as well. He toyed with Leconte's psyche during one particularly long rally shouting, "You're going to miss first!" And Leconte did, much to the amusement of the fans.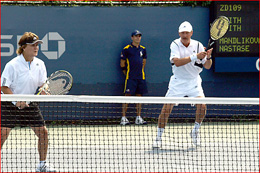 Anne Smith and Stan Smith going up
against Hana Mandlikova and Ilie
Nastase in a US Champions
Invitational match on Day 11 of
the 2007 US Open.
Photo by: Philip Hall/usopen.org
Leconte also took frequent breaks to have side tete-a-tetes with the crowd. As people occasionally got up to leave, Leconte would politely shout, "Thank you for coming!" Then an hour or so in, with the men's semifinal starting in Arthur Ashe Stadium, a larger group got up to depart and Leconte stopped, looked up and implored, "Where are you going? We are still playing!" Then after splitting sets, going into the super tiebreak, he pleaded with more departees, "No! Where are you going? The tiebreaker will only take five minutes!"
Undeterred, they pressed on in the sweltering heat, and Leconte who had struggled in his two previous matches, pulled out his first win of the tournament in the super tiebreak, with a final score of 4-6, 6-3, 10-5.
Immediately following was Jana Novotna against Conchita Martinez. Slightly more sedate from the outset than their earlier male counterparts, their match was curtailed when, with Novotna up one set, 6-2, Martinez was forced to retire due to a foot injury.
Then it was time for the mixed doubles. In the late afternoon, Anne Smith and Stan Smith faced off opposite Ilana Kloss and Guillermo Vilas. With Billie Jean King watching courtside, the four gave a great show to the crowd on hand. A fast-paced and hard-hitting contest, it was obvious that in addition to having fun, both sides were totally focused on getting the win. There were long rallies, hard-fought and rapid-fire net volleys, and serves that were impossible to return. After splitting sets, Smith and Smith held on to win the super tiebreak and chalk up their second win of the tournament, 7-6, 3-6, 13-11.
The Champions Invitational officially concludes tonight with Todd Martin taking on Pat Cash in Arthur Ashe Stadium, immediately following the women's singles final.