MACH 4® Mental Training System
A Handbook for Athletes, Coaches and Parents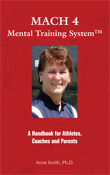 Purchase online @
www.Amazon.com
or
www.BarnesandNoble.com
MACH 4 will Enhance Your Performance and Change Your Life
The MACH 4® Mental Training System is unique because it teaches how to develop empowering relationships between parents, coaches, and athletes; how to produce an independent, strong, and confident athlete; and how to create a powerful partnership between the mind and the body. MACH 4 is customized for each player as an individual. It is NOT a "cookie cutter" system. MACH 4 is individualized according to a player's performance style, technique and personality. Incorporating this easy, fast, fun System into your practice sessions will give you the mental edge to win. Imagine being able to train the mind while training technique. MACH 4 is most powerful when things are not going your way. It keeps you strong and confident in the face of adversity. MACH 4 helps you learn how to eliminate the emotions that cause you to lose. Train with MACH 4, and you will never give away "free points" again. Is there any better way to prepare for athletic competition? If you agree with me, then MACH 4 is the training System for you!
What Coaches and Players are saying about the MACH 4® Mental Training System
Excellence with simplicity is the word that comes to mind when I devoured Dr. Anne Smith's MACH 4 mental training. I have read Jim Loehr and many others and this is by far the best and most simple method ever. The bible of mental training, she addresses the process of development and not the destination. The educational range with customization for personality types with increased personal development and effectiveness with tennis the goal. I have personally seen increases in mental proficiency with increases in skill or drill level difficulty.





She has definitely met the challenge of increasing success and confidence by developing a training plan that works. The key is it works for every level of player & sport from beginner to advanced and that is the miracle and genius of her and Bev Raws System. The plan is simple mental proficiency, learning behavior & skills, experiment and practice, execution and follow-up with review. Why not mentally train while you are physically training? I have personally benefited and thank God for this revelation in mental training and personal development.
Mike Van Zutphen, Head Pro at Mesa Country Club in Mesa, Arizona, USPTA Master Professional, 4 time SWPTA Professional of the Year, 2 time SWPTA Coach of the Year, 2 time Recipient of USTA Community Service Award, USPTA National Tester
MACH 4 helps me to control my emotions and to concentrate on the court when I am playing. It has helped me to know when I need to raise my energy in matches and how to act like a champion. I have started to feel myself stronger on the court. MACH 4 has also helped me in my life. I am now nicer to the people who are around me.
Oksana Kalashnikova, Republic of Georgia, 2005 16 & Under ITF Orange Bowl Champion, 2007 ITF Junior Ranking #12 in the World, March 2007 Singles Semifinalist, ITF $10,000 Women's Pro Circuit Cairo, Egypt, July 2007 G18 Singles Finalist, European Junior Championships, August 2007 G18 Doubles Winner, Canadian Open, September 2007, G18 Singles Semifinalist, & G18 Doubles Finalist, US Open.
Anne Smith, Ph.D., won her place in the history books of all-time winners with 10 Grand Slam championships in doubles and mixed doubles from 1980 to 1984. She is one of only 20 women in the history of the Open Era of tennis who have won 10 or more Grand Slam titles. She has won three US Open titles, two Wimbledon titles, four French Open titles and one Australian Open title. Dr. Smith is the coach of the World TeamTennis Boston Lobsters, and she is the mental training consultant for Harvard University's women's tennis team. Dr. Smith is licensed to practice psychology in Texas, Massachusetts, and Arizona.