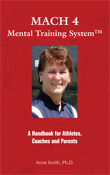 Purchase online @

or
www.BarnesandNoble.com
The MACH 4® Mental Training System is a fast, fun, easy, effective way to teach athletes, coaches, and parents how to develop a prescription to win, increase self-esteem and confidence, control destructive emotions such as fear and anger, learn dynamic strategies for creating a positive learning environment, find effective ways to reach their maximum potential, allow themselves to win, and develop healthy, positive relationships that foster a winning atmosphere. Why call the System MACH 4? There are four components: mental, body language, intensity level, and cueing language. Combining these four components will help anyone reach their goals "faster than the speed of sound". MACH 4 is unique because it teaches how to develop empowering relationships between parents, coaches, and players, and how to create a powerful partnership between the mind and the body by highlighting the mind/body connection, focusing on training the mind and the body at the same time, and integrating mental training into practice sessions. If you are looking for something to give you that added advantage, MACH 4 is for you.
MACH 4 teaches much more than enhanced athletic performance. Life becomes easier, more rewarding and more fun using the MACH 4 techniques. Everyone can learn how to empower themselves and others by creating the best win-win situations. Using the MACH 4 System, athletes maximize their performance in sports by relating to specific intensity levels and by managing their emotions. Winning can never be guaranteed, but we guarantee that if you practice using MACH 4 every day in and away from your athletic arena, you will enjoy life and competition more, and you will be more successful in relationships and all endeavors that are important to you. Your life and performance will become easier and more fun.
MACH 4 teaches you how to manage your emotions, which will improve everything in your life. Every moment of the day, events occur where decisions must be made and interactions with others become critical. MACH 4 ensures the best results at all times. What you choose to do in a moment, how you choose to act in a moment, and what you choose to say in a moment become defining. These three actions are all we really can control in our lives. Take the concepts from MACH 4, apply them not only to sports, but to relationships and life events, and you will be amazed at the positive results.
The mental part of the game is considered by most athletes and coaches to be at least 80–90%. Yet very few athletes and coaches take the time to train the mind at the same time they work on the physical skills of the game. If this mind/body training does not happen, how can the physical and the mental come together during competition? Mental training is about educating your athletes; just like you teach them technique, you can teach them mental skills to help them perform more easily and effortlessly with less chance of injury.
Most coaches only focus on technique and physical conditioning. Why not focus on creating mentally strong athletes who can perform when it counts? Mental training is the quickest way to improve performance. When players and coaches take
responsibility for emotional and mental training, then they will have the complete package.
As an athlete, do you want to consistently perform your best, see immediate positive results, increase your confidence, control emotions that cause you to lose, be mentally and physically stronger, improve your concentration, and have fun and learn? As a coach, do you want to learn how to teach mental toughness skills, help your players perform better under pressure, integrate mental training into practice sessions, increase your player's self-esteem and confidence, identify thoughts and behaviors that hold your players back, manage team relationships, and improve team chemistry? If your answer is yes, then the MACH 4 Mental Training System is for you!
How do I know about performing and winning? From the time I was a teenager, I was among the most talented tennis players in the world. When I was 17, I was the first American ever to win the French Open Junior Singles Championships. Between 1980 and 1984, I won 10 Grand Slam championships in women's and mixed doubles, including three US Open titles, two Wimbledon titles, four French Open titles and one Australian Open title. I played with and against some of the greatest names in the history of tennis, including Martina Navratilova, with whom I won the French Open doubles championship in 1982. I was ranked as high as #12 in the world in women's singles.
Now, at age 45, I am making a comeback to professional tennis. I am playing singles and doubles on the International Tennis Federation (ITF) pro circuit. People have asked me why I don't just play doubles. It's because playing singles is a bigger challenge. Besides, my highest singles ranking was #12 in the world and that's not bad! Even though I won three singles titles, I firmly believe that if I would have had the MACH 4 System when I first started playing tennis and used it throughout my career, I would have won many more.
The game has changed significantly since I last played competitively in 1991. There is more of an emphasis on power now even though when I played against Monica Seles, she could hit the ball as hard as any of the current players. But, the game is about so much more than hitting the ball! All of these young women can hit the ball well. It is about the mental part of the game. This is where I benefit from what I learned studying for my Ph.D. in educational psychology. I have had to create a mind set that allows me to compete with players who are 20 years or more younger. These players work on the physical part of the game, but few work on the mental part. Most players do not even realize that it is possible to develop a tougher mental attitude much less about how to actually do it. As I have said to some of the players, "It's just like practicing a backhand down the line". Mental toughness can be learned. I learned it, so I will share with you how you can become mentally stronger so that you can win.
On this tour, I have seen many negative interactions between coaches/parents and players. It is very disheartening to hear coaches and parents speak in a harsh and derogatory manner to their players – their sons and daughters. They also foster dependent relationships that do not instill self confidence, self discipline, or self motivation. Time after time, I see players looking to their coaches or parents after every point. This does not create a winning environment. This type of support to a player just creates more stress and more reasons to lose. The job of a parent or coach is to find the best ways to enhance the player's performance. Through experience I know that a harsh, critical approach does not work. It leads to self doubt, anger, illness, and injury. Players need a strong, supportive team to help them maximize their performance.
Since I started doing MACH 4 as a player, I am able to play more easily and effortlessly with a faster recovery time. I also will not allow anyone on my "team" again who does not have a positive approach to my game. Since I started doing MACH 4 as a coach, I emphasize what the player is doing well, not constantly reinforcing the word "mistake" to the player's mind because the mind will replicate what it is fed on a moment-to-moment or daily basis. Children often put their coaches on a higher pedestal than even their parents. When I am coaching, I want to be the best role model I can be. I know that what I say and do will either make or break a player's ability to become a stronger person and competitor. Is this not as important and necessary as teaching the physical skills needed to compete and win? MACH 4 teaches this and much more.
Too often today, the emphasis is put on who wins and who loses – as if the score was all that mattered. Dignity, integrity, and sportsmanship are often tossed aside in the quest for victory. Players, coaches, and parents often lose sight of why games are played. Everyone wants to win, and there is nothing wrong in that. But the extent to which people will go to win is alarming. We hear about parents and coaches who physically or emotionally abuse players whose ability or effort does not meet their expectations. None of this creates a healthy, winning environment.
For anyone who has enjoyed the thrill of athletic competition, there is no better feeling than walking off the court after a victory. The will to win is part of human nature (this is part of Darwin's survival of the fittest), but, unfortunately, the forces that prevent us from winning – negativity, sarcasm, domination – are also part of human nature. The next time you are near a tennis court, take a look around. Observe the behavior of the players, the coaches, the parents, and the fans. That behavior will tell you, regardless of the score, who is winning and who is losing. I believe in the power and effectiveness of positive mental training. This is the best way to coach so that your players can achieve the best results.
With this handbook, players, coaches, and parents will learn how to develop a prescription to win. If you are a coach or parent, you will learn effective strategies for creating a positive environment and getting the most out of your players and children. If you are a player, you will find effective ways to reach your maximum potential and put yourself in a position to win – and, at the same time, have fun and learn