'Mind to Win'
by Ann Miller (amiller@honoluluadvertiser.com)
Advertiser Staff Writer October 13, 2006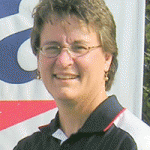 From its imaginative beginnings, Tennis Weekend has always tried to be a celebration of the game from the sole of its expensive sneakers to the tip of its high-tech rackets.
The 20th annual weekend, dubbed Tennis Block Party, is taking the game's universal appeal to radical lengths. The two-day conglomeration of user-friendly clinics and exhibitions includes a Toddler Festival for the sport's smallest smurfs and tennis legend Vic Braden.
For meticulous measure, the USTA's Hawai'i Pacific Section is bringing Grand Slam champion and Ph.D. Anne Smith to the University of Hawai'i courts this weekend. As far as Smith knows, Julie Anthony is the only other touring tennis pro with a Ph.D.
Smith is an educational psychologist for Phoenix-area schools with an intriguing resume: 10 Grand Slam doubles titles, a singles world ranking as high as 12 (in 1982) and three World Team Tennis titles.
Inspired by Martina Navratilova and curious about the new "Big Babe" tennis, she returned to the game last year, at age 46, after a 14-year-layoff. Smith won a doubles title five months later.
What she brings to Tennis Weekend is all that, along with her MACH 4 Mental Training System and copies of her new book — Grand Slam: Coach Your Mind to Win in Sports, Business and Life.
Her focus these days is about inspiring athletes, parents, executives, teachers, students and coaches to make their life easier. Smith calls it "understanding the importance of managing their minds and emotions."
Components of her training system deal with body language, intensity level and cuing language, and creating an "empowering environment." She is big on incorporating mental training into practice so emotion and energy are the same as in matches.
"It's not about forehands and backhands," Smith said. "It's about how you manage your mind and emotions before, during and after competition."
The relationship to sports is fairly easy to understand. Smith also applies it outside the court.
For example, teachers use parts of her system to bring their young students' energy level down after recess, asking them to calm from an intensity level of five to four in the hallway, and reach level three by the time they hit the classroom.
What she has learned through her studies would have been a huge help on tour, admits Smith, who feels anger held her back.
"It would have made a huge difference," Smith said. "I would have enjoyed playing much more, won more titles, won more singles titles. I would have enjoyed my life more. I was such a perfectionist and I think that's a no-win situation. That perfection fueled my anger."
Now anger management is a central theme in her work — on the tennis court and with those she counsels.
"I can apply MACH 4 to any business and to your own life," Smith said. "What I'll be doing in Hawai'i is teaching. I like to teach different ways to look at things.