Grand Slam: Coach Your Mind to Win
in Sports, Business, and Life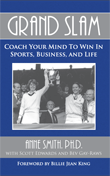 Purchase online @
www.Amazon.com
or
www.BarnesandNoble.com
Dreams do come true! My dream began when I was 12 years old, kneeling down on Centre Court at the All England Lawn Tennis & Croquet Club and taking a few pieces of that precious grass, then turning to my family and saying, "I'm going to play here some day." Call it intuition or just plain desire; I knew that I would some day play on that majestic court during Wimbledon.
I was lucky. My parents believed in my dream and made it possible for me to have my chance. My parents only asked one thing, no matter where I played: I was to represent my family well. The endless practicing and training paid off in 1977 when I walked onto Centre Court at Wimbledon ready to play one of my idols, Billie Jean King. As I sat and looked around at all of the spectators waiting to see me play one of the greatest players of all time, I could not help but bend over and touch that grass again just to make sure that this was real. My dream had come true! Imagine, I was only 17 years old, playing my first Grand Slam, Wimbledon, and I was through to the second round to play against Billie Jean King. Incredibly, I won the first set 8–6.
What a feeling! I did not win that match, but what an honor to have been able to play three sets against such a great champion.
Even today, people often ask me what the best moment in my career was. I always tell them that it was when I won my first Grand Slam doubles title with Kathy Jordan at Wimbledon in 1980. The feeling of lifting that trophy in the Royal Box on Centre Court is indescribable. Now at age 46, I am continuing a comeback in professional tennis that I started in February 2005. I look back on my career and that moment, and I really know that dreams do come true. It is exciting to know I am beginning a new one.
Vince Lombardi did not say, "Winning isn't everything. It's the only thing." What he really said was, "Winning isn't everything, but the will to win is." This book is about how to win—in sports, business, and life. Winning, we all know, is not only about the score at the end of the game. That is important, but so is putting yourself in a position to win, empowering others to win, being a positive role model, being a good teammate, having fun, learning new things, and taking risks. These themes pertain not only to sports but also to managing employees and nurturing relationships as well.
How do I know about winning? From the time I was a teenager, I was among the most talented tennis players in the world. When I was 17, I was the first American ever to win the French Open Junior Singles Championships. Between 1980 and 1984, I won ten
Grand Slam championships in women's and mixed doubles, including three U.S. Open titles, two Wimbledon titles, four French Open titles, and one Australian Open title. I am one of only 20 women in the history of the Open Era of tennis (1968 to present) who have won ten or more Grand Slam titles. I was ranked #1 in the world in women's doubles in 1980 and 1981, and was ranked as high as #12 in the world in women's singles. I played with and against some of the greatest names in the history of tennis, including Martina Navratilova, with whom I won the French Open doubles championship in 1982 in addition to five other WTA tour titles.
With this successful past, why would I want to make a comeback? Because my passion and love for the game is still there. I also do not want to look back ten years from now and ask myself why I did not try. Many times we do not go after our dreams because of a fear of what others might think or say. Believe me, I do not like losing, but the greatest loss of all is not trying. This time, however, I am doing it differently. I have given up the idea that I cannot miss, or that I have to be perfect. During my career in the 1980s, my perfectionism fueled my anger and caused me to feel as if I were fighting myself instead of my opponent. But I have now learned how to manage this perfectionism and anger by encouraging myself and by focusing more on what I am doing well.
On the International Tennis Federation (ITF) pro circuit, where I am playing singles and doubles, young women are working to make their dreams come true, too. People have asked me why I don't just play doubles. It is because playing singles is a bigger challenge. It also enables me to meet more players so that I can find a doubles partner. Besides, my highest singles ranking was #12 in the world and that's not bad! Even though I won three singles titles, I firmly believe that if I would have had the MACH 4 Mental Training System (read more about this in chapter 11) when I first started playing tennis and used it throughout my career, I would have won many more.
Unlike now, I never had to play on a "Futures" tour or in the qualifying draw because my ranking always allowed me to enter in the main draw on the main tour. I equate this to never missing a cut on the pro golf tour. Now, for the first time, I have to play in the qualifying draw at some of the current tournaments.
The game has changed significantly since I last played competitively, in 1991. There is more of an emphasis on power now, although when I played against Monica Seles, she could hit the ball as hard as any of the current players. But the game is about so much more than hitting the ball!—all of these young women can hit the ball well. It is about the mental part of the game. This is where I benefit from what I learned studying for my Ph.D. in educational psychology, and putting it into practice as a school psychologist working with children, teachers, and parents. I have had to create a mindset that allows me to compete with players who are 20 or more years younger. These players work on the physical part of the game, but they seldom work on the mental part. Most players do not even realize that it is possible to develop a tougher mental attitude, much less know how to do it. As I have said to some of the players, "It's just like practicing a backhand down the line." Mental toughness can be learned. I learned it, so I will share with you how you can become mentally stronger, which will enable you to win more often.
On this tour, I have seen many negative interactions between coaches/parents and players. It is very disheartening to hear coaches and parents speak in a harsh and derogatory manner to their players—their sons and daughters. They also foster dependent relationships, which do not instill self confidence, self discipline, or self motivation. Time after time, I see players looking to their coaches or parents after every point. This does not create a winning environment. This type of support to a player just creates more stress and more reasons to lose. The job of a parent or coach is to find the best ways to enhance the players' performance. Through experience I know that a harsh, critical approach does not work. It leads to self doubt, anger, illness, and injury. Players need a strong, supportive team to help them maximize their performance.
If I were a parent, I would not allow a coach who does not take a positive, supportive approach to influence my child. Children often put their coaches on a higher pedestal than even their parents. Don't parents want the best role model to teach their child how to win? I was lucky to have had two positive coaches at the beginning of my career. Imagine: I was able to learn the strokes that were right for me and allowed me to win 13 national junior titles without being berated or humiliated by a coach or parent. Every child deserves to have a nurturing environment as they try to make their dreams come true.
Too often today, the emphasis is put on who wins and who loses—as if the score was all that mattered. Dignity, integrity, and sportsmanship are often tossed aside in the quest for victory. Players, coaches, and parents often lose sight of why games are played. Everyone wants to win, and there is nothing wrong in that. But the extent to which people will go to win is alarming. We hear about parents who are involved in violent confrontations with coaches over their child's lack of playing time, or of coaches physically or emotionally abusing players whose ability or effort does not meet their expectations. None of this creates a winning environment.
With this book, I want to help players, coaches, parents, employers, and employees—and others—develop a prescription for how to win. If you are a coach or a supervisor, you will learn effective strategies for creating a positive environment and enhancing the performance of your players or employees. If you are a player, you will find effective ways to reach your maximum potential and put yourself in a position to win—and at the same time have fun and learn new ways to win. If you are a parent, you will find ways to identify potentially destructive negative behavior in the ones who coach your children. You will also be able to develop healthy, positive relationships with your children and their coaches that foster a winning environment.
GRAND SLAM also includes my life experiences. You know the saying, "If only I knew then what I know now, I would have done things differently." For me, I would have not been so hard on myself and others. I would have realized how critical it was for my words and actions to be more positive and empowering. My successful tennis career could have been accomplished much easier with a different mindset. I could have celebrated and enjoyed my wins more. I would like to share these life experiences with you so that you know it is possible to look inside yourself and to make constructive changes. I have been able to make changes that have made me a better and happier person. The good news is that people can change, no matter their age or what has transpired in their life. It is easier than you think; I am a good example.
For anyone who has enjoyed the thrill of athletic competition, there is no better feeling than walking off the court or playing field after a victory. The will to win is part of human nature (this is a part of Darwin's theory of survival of the fittest), but, unfortunately, the forces that prevent us from winning—negativity, sarcasm, domination—are also part of human nature. The next time you are near a ball field, tennis court, or other athletic facility, take a look around. Observe the behavior of the players, the coaches, the parents, and the fans. That behavior will tell you, regardless of the score, who is winning and who is losing. I believe in the power of positive training and coaching to win. By the time you finish this book you will also.